Earbuds Sticks Manufacturers and Exporters India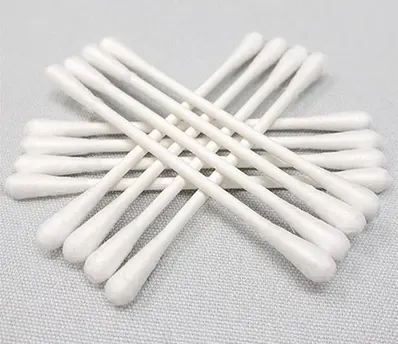 Earbuds have become an essential part of our daily lives. Whether we are commuting to work, working out, or just relaxing at home, we rely on earbuds to provide us with a high-quality audio experience. With so many options on the market, it can be hard to choose which earbuds to buy. Earbud sticks are manufactured by Shantis Paper Product, and every kind has its own unique set of features, styles, and pricing points. There is a set of earphones sticks available on the market for everyone's budget, ranging from models with lower prices to those with higher ones.
Our high-quality ear buds are the perfect choice for a wide variety of applications, including applying cosmetics, caring for infants and animals, cleaning electrical devices, and creating works of art.
For the purpose of providing sufficient safeguards, our items are packaged in our company's specialized export cartons and strong inner boxes.
Made of cotton tips and flexible paper sticks, Shantis Paper Stick ear buds have the most cotton at the tip of the swab.
What You Need To Know About Shantis Paper Product Earbuds Stick?
1. The ear buds are made entirely of cotton, which is natural and has a really pleasant feel to it. The fact that the swabs are quite thin and have a base made of wood makes it simple to use them without the risk of breaking them unnecessarily. Our earbuds sticks India come in many different sizes, and colors to fit the needs of every individual.
2. The swabs do not leave any fiber material behind when they are being cleaned and may be used without any concerns. The cotton swabs have two heads and are able to absorb water in their design. The fact that these ear buds do not irritate the skin in any way, are suitable for use under hygienic conditions, and are an absolute must to have in your cosmetic bag.
3. Earbuds sticks India are biodegradable when composted in a way that is environmentally friendly, and their packaging may be recycled. If it is to be used to clean the ears, the cotton swab should only be stroked softly over the ear's outer surface.
4. Being the number one earbuds sticks manufacturers in the world our cotton swabs are the perfect beauty tool because to their versatility and ability to apply, mix, touch up, and remove makeup in a secure and precise manner. These are ideal for use on even the most delicate areas of the face and body since they have more pure soft cotton at the tip from the end of the stick to the top of the swab than any other swab and a softly flexible stick.
Product Details
Every home should have a supply of cotton swabs that have a little bamboo stick placed in the middle of the two cotton tips since they are an excellent multifunctional product and a need. You may use it to clean your ears, apply or remove makeup, care for your infant, improve your appearance, provide first treatment, clean collectibles, create handmade crafts, and fulfil a variety of other purposes. Our cotton swabs are made from 100% natural cotton, so in addition to being soft, flexible, and delicate, they are also completely risk-free to use. Ultimately, the entire quality of the earbud stick depends on earbuds sticks manufacturers attention to detail, use of high-quality materials, and commitment to creating a comfortable and secure fit for the user.
100% natural and plastic-free
Multipurpose and gives a good grip while using the swab
Why Us?
Our company are well-known earbuds stick exporters who have all of the technically sound equipment and other necessary facilities that enable us to provide the highest quality goods on the market. Because of our expertise in this field, we have always been able to provide items that are superior to those offered by competitors while yet maintaining competitive rates.
We are renowned earbuds stick exporters who offer customization options, allowing customers to choose the color, design, and features of their earbuds. This level of flexibility and personalization has helped to make earbuds the go-to choice for people around the world. The design of the ear (stick) gives it a clear appearance, which means that you will be able to see through it to the inside of the device. Our team assists in improving the image of the business, influencing buyers, starting with in-depth market research, realistic strategies, and expert implementation.
We Follow The Below Approach:
1. Vast Industry Experience
2. Transparency at Every Stage
3. Performance Focussed
4. Unique Solutions Approach
The handling of all orders and inquiries is done in an efficient and effective manner. Get in touch with us right away so that we can figure out the best way to fulfil your needs!